Sigh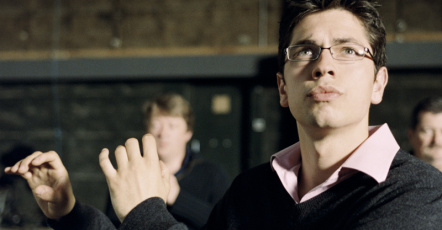 Sigh (2008) by Sam Taylor-Wood
© Sam Taylor-Wood, Photo: Todd-White Art Photography, courtesy White Cube
---
This audiovisual installation consists of eight large screens suspended in a large dark room and an eight-minute-long musical composition written by Ann Dudley for a 56-piece orchestra, with each screen showing a different section of the orchestra. Even though the music, played by the BBC Concert Orchestra, is clearly audible, the musicians are not playing their instruments; they accurately mime their performance.
Through this absence the piece emanates a sense of loss and vulnerability from the musicians, and emphasizes the importance of bodily action within musical interpretation. The players' sheer physical dedication is clearly evident and becomes the focus of the performance. Sigh highlights the relationship between the viewers' aural perception of the music and their visual perception of the musicians' and the conductor's enactment of performance. Dudley said of the work:
When I was composing this piece I had in mind Sam's wonderful large photographs from her series Wuthering Heights. This gave me the sense of loss that would transform onto the members of the orchestra as they played without their instruments. I knew that the sound of each section had to come from the right screen and this allowed me to think about the music travelling around the room. Also, I wanted the listener to be able to move around the room and experience a different perspective of sound – very much like strolling through an orchestra. All the sections rely on each other to complete the soundscape and avoid a greater loss. [1]
As with Sam Taylor-Wood's earlier piece Prelude in Air (2005), the musicians are portrayed as absorbed in the act of performance, but somehow naked, exposed without their instruments. Given the still dominant view of music as an art of pure ephemeral sound, Taylor-Wood's work reminds us that music is also an art of bodies in motion.
---
---
---
Print Text

---
---
This work is issued in following texts
---