Joshua Light Show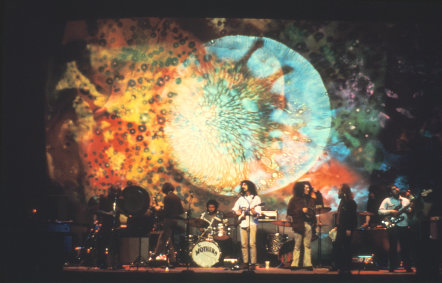 The Joshua Light Show performing with Frank Zappa and the Mothers of Invention at the Filmore East
Courtesy Joshua White
---
Founded by Joshua White, who had previously designed the lighting for fashion shows and 1960s discotheques, the Joshua Light Show was resident at the Fillmore East, a theater in New York City presenting rock 'n' roll shows, and the East Coast version of Bill Graham's highly successful Fillmore Auditorium in San Francisco. Opening on March 8, 1968, as the accompaniment for Janis Joplin with Big Brother and the Holding Company, it performed every weekend for more than three years until it closed on June 27, 1971, with a performance by the Allman Brothers Band and many special guests.[1] Along with White, William Schwarzbach and Thomas Shoesmith formed the core of the group, but as many as ten people also participated. The group rear-projected on a twenty-by-forty-foot vinyl screen behind the bands, using several film projectors, many overhead and slide projectors, color wheels, and miscellaneous light producing and reflecting objects.
In addition to the spontaneous abstract compositions of pure light, wet show images (colored oil mixed with water dyes and displayed by means of overhead projectors), and lumia (reflected and refracted light, these were named after the work of Thomas Wilfred, who was a significant influence on White), the Joshua Light Show occasionally also incorporated concrete imagery. The latter included extensive original film and animation footage, often as film loops; slides with hand-painted forms; and collaged art-historical paintings, text elements, and re-photographed newspaper images. They also experimented with early live video projection, mixing enlarged images of the performing musicians. All of these elements were improvised and mixed by White on a special console designed by Schwarzbach and Shoesmith. The regularity of their projections and the high quality of their equipment enabled them to become one of the best-known and most highly regarded light shows.
White also accompanied a performance of Hector Berlioz' Symphonie Fantastique by The American Symphony Orchestra at Carnegie Hall and designed the party sequence for the film Midnight Cowboy (US 1969, dir. John Schlesinger). The group was invited to participate in the Woodstock music festival, but the screen they intended to use blew away. In the early 1970s, as the counterculture became more commercialized, the Fillmore closed and the light show disbanded. White occasionally revived the show, in collaboration with both some of the original members and the artist Gary Panter. He currently performs a modern digital and analog projection light show with his senior collaborator Bec Stupak. They recently performed at Netmage in Bologna and at the Lincoln Center with composer Manuel Göttsching.
---
---
---
Print Text

---
Workdetails
original Title:

Joshua Light Show

Date:

1960 – 1979

Genre: Performance
---
This work is issued in following texts